Update: May 26, 2020
Nevada Irrigation District (NID) will open its boat launches at Scotts Flat and Rollins Lakes (with exception of Peninsula campground) to local residents (Nevada/Placer County) only on Friday, May 29 with County prescribed, COVID-19 Boat Launch Handout.
Camping is still closed till further notice.
Update: May 22, 2020
Scotts Flat, Long Ravine, Orchard Springs and Peninsula campgrounds and facilities will be

closed until further notice.
Jackson Meadow campgrounds

closed until further notice.
Update: May 16, 2020
ALL NID LAUNCH RAMPS TO REMAIN CLOSED TILL FURTHER NOTICE!
Update as of May 7, 2020
Temporary Closure:
Nevada Irrigation District is temporarily closing all Recreation facilities to support state and local efforts to slow the spread of COVID-19 (coronavirus).
Scotts Flat, Long Ravine, Orchard Springs and Peninsula campgrounds and facilities will be

closed thru May 31, 2020
Jackson Meadow campgrounds closed through June 14, 2020
The temporary closure includes all  boat launches at Scott's Flat Reservoir and Rollins Reservoir.
NID personnel remain available to assist customers via telephone:
Scotts Flat-                          (530) 265-8861
Long Ravine-                      (530) 346-6166
Orchard Springs-               (530) 346-0073
Peninsula                             (530) 477-9413
The Easter Egg Hunt at Orchard Springs Campground, scheduled for Saturday, April 11, also has been canceled.
We appreciate your patience and cooperation during this time and we will keep you updated on any further changes. NID remains committed to serving you and our community as we have for nearly 100 years.
Recreation & Campground Information
NID provides outstanding outdoor recreational opportunities at district reservoirs in the foothills and mountains of the Northern Sierra. These facilities are owned and operated by Nevada Irrigation District.
Foothill Recreation
Camping, fishing, swimming, sunning, boating, water skiing, sailing, kayaking and other activities are popular at both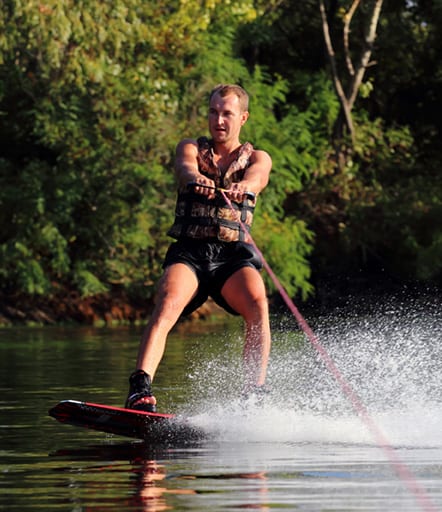 Rollins and Scotts Flat reservoirs in the Sierra foothills. Day use parks, campgrounds and beaches are operated by the district and in some cases by private operators under contract with NID.
Scotts Flat is situated among the tall pines at the 3100-foot elevation nine miles east of Nevada City via Highway 20 and Scotts Flat Road. It offers 169 campsites at two large campgrounds, plus a group camp. Across the lake, accessible via Red Dog and Quaker Hill Roads from Nevada City, is the Cascade Shores Day Use Area.
Rollins, located at the 2100-foot elevation off Highway 174 between Grass Valley and Colfax, has four independently operated campgrounds. Long Ravine, Greenhorn, Orchard Springs and Peninsula offer a combined 250 campsites and a complete range of services including stores, restaurants, fuel sales and boat rentals.
User fees at the public recreation areas are set by the NID Board of Directors.
Mountain Campgrounds
In the mountains, NID has campgrounds at Faucherie, Bowman and Jackson Meadows reservoirs. Nature, solitude, scenery and good fishing are among the attractions.
The mountain campgrounds are normally snowed in during the winter and opened for recreation from Memorial Day through Labor Day.
2020 Events!
NID Easter Egg Hunt

Orchard Springs

– TBA

No Motor Day

Scott's Flat Lake

– TBA

6th Annual NID Kids' Triathlon

Orchard Springs

–  TBA

BSM (Barbara Schmidt Millar) Triathlon

Cascade Shores

– TBA